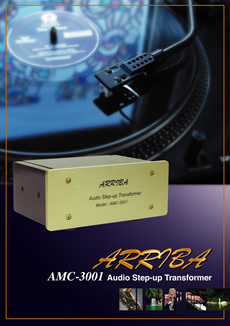 Moving Coil Step-Up Transformer
Mfg. of Taiwan

Features:
- The merit of an amorphous alloy is applied to the transformer
- An amorphous alloy is under solid formed by cooling rapidly from a melting state
- With the irregular structure in atomic arrangement,
core has little energy loss at the time of magnetic flux passing(hysteresis loss),
and eddy current loss is also reduced when compared with non-oriented magnetic raw steel.
- For these reason, compared with nor-oriented magnetic raw steel used, no-load lost(hysteresis loss plus eddy current loss) can be reduced.
- Adoption of a L/Rch independent phi 40mm large-sized amorphous core.
- 3-folded shield structure of a perm alloy case, an aluminum case, then an iron case
- compact size with hair brushed alum. face panel in golden finish. with side wooden panels in glossy mahogany nature finish
- Back panel: RCA input and output, with grounding terminals.

Specifications:
- Input Impedance: 15Ω~ 30Ω(conformity)
- Gain: +32 dBV / 1Khz
- Output Impedance: 25kΩ~47kΩ(conformity)
- L/R Level difference: 0.2 dBV Max.
- Frequency Response: 10 Hz ~100K Hz +0/-2dBV
- Channel cross talk: -80 dBV Min.
- Distortion: 0.1% Max/1KHz
- Insertion loss: -0.35dBV Max/1KHz
- Dimension: 160 x 123 x 70 mm
- Net Weight: 1.1 kgs
* Taiwanese Audio Art magazine reviews published on issue Vol.254