VSF Capacitor SQ. copper foil layer capacitor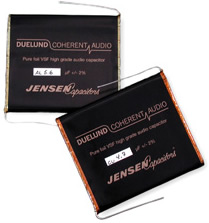 VSF Capacitor:
The Virtual stack foil capacitor, a capacitor made specially for loudspeaker crossovers.

This new capacitor is the realization of a lifelong ambition. It consists of aluminium, copper or silver foil and high-density paper, soaked in pure mineral wax, treated with special lacquers made from natural materials and wrapped in paper. It is without question a "green" product.

The actual construction has been overseen by Mr. Steen Duelund Chief Engineer of Duelund Coherent Audio. Mr. Duelund has dictated the capacitor's special characteristics, i.e. its flatness, giving the opportunity to create its stack-foil working manner ensuring very low inductance, forming a solid block resulting in a form free of internal resonances. Furthermore, the flatness makes it easier to achieve greater values by connecting the capacitors in parallel.

Performance
The audiophile vocabulary contains many words that attempt to describe sonic qualities of equipment and components:
Immediacy, clarity, harmonic authenticity, detail, plasticity, uncolouredness etc.
While this capacitor has no problems fulfilling the promise of these words none of them encompass the sound that this component makes possible.
Only one word does this: Natural

The Duelund VSF capacitor is available for speaker use and as the VSF DC for DC-applications.

Standard sizes 0.01 uF - 50 uF other values available on request. .
VSF Cu Copper foil series
200V
Capacity (uF), Dim. in mm.
0.1uf, 3 (thickness) x 35 x 45
0.47uf, 5 x 37 x 45
1uf, 10 x 41 x 45
2.2uf, 9 x 91 x 45
2.7uf, 11 x 93 x 45
3.3uf, 6 x 88 x 103
3.9uf, 8 x 89 x 103
4.3uf, 8 x 90 x 103
4.7uf, 9 x 90 x 103
5.1uf, 9 x 92 x 103
5.6uf, 10 x 92 x 103
6.8uf, 12 x 93 x 103
8.2uf, 15 x 96 x 103
10uf, 17 x 99 x 103
12uf, 22 x 104 x 103
15uf, 24 x 102 x 103
20uf, 31 x 113 x 103
24uf, 36 x 118 x 103
40uf, 53 x 135 x 103
VSF DC Cu copper foil DC series
100V
Capacity (uF), Dim. in mm.
0.047uf, 4(thickness) x 21 x 45
0.1uf, 6 x 22 x 45
0.47uf, 15 x 30 x 45
1.0uf, 23 x 39 x 45
1.5uf, 31 x 47 x 45
2.2uf, 39 x 55 x 45