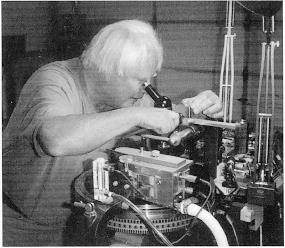 About who mastered the LP Sweeper
By day, Stan Picker is the head buyer for the Telemetry Department at the Naval Air Warfare Center at China Lake.
By night, he "is" Stan Picker Mastering in Ridgecrest, California. Stan specializes in less-than-real-time disk mastering from analog tape, DAT, CD and CDR sources onto 7 or 12 inch, 33 1/3 or 45 rpm LPs.

Though his mastering skills were self taught, Stan is known for his development of the half speed mastering process and his part in the creation of the 200g UHQR (Ultra High Quality recording).
A few of the LP labels Stan has mastered include: AcousTech Mastering, Analogue Productions, Stereophile,
Windham Hill, Telarc, Delos, Reference Recordings, Mobile Fidelity Sound Lab, and Crystal Clear.
All this skill and experience is brought into focus by Stan's love of music. His earliest memories center around music. He began playing musical instruments very young.
He obtained a Bachelor's Degree in Music Education from Kansas University, he's been a band leader and orchestra conductor, loves pipe organs and theories for tuning pipes, and to this day, bows and plucks the string bass and plays
a mean tuba.