Copper Foil Air-Core Inductor
LEADING EDGE TECHNOLOGY FOR LOUDSPEAKER CROSSOVER NETWORKS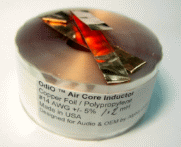 Inductors are manufactured from high purity OCF copper or fine silver foil and polypropylene insulating film wound onto a LEXAN(Polycarbonate)tube.
Foil inductors may be installed by means of PC or nylon screw or a silicone elastomer or hot melt adhesive.
...You can expects more musical¡Bclarity¡Bmusic details¡Blinearity frequency response and dynamic.

Characters and applications:
- Improved electrical and sonic characteristics
- Suitable for using as choke in power Amp. or speaker cross-over networks
- consistency in current flow, better bass performance
- Lower DC/AC impedance value
- Very low power loss(about 15-50%)
- Improved Q factor, very low power loss and improve music impacts
- Lowest skin effect and as ideal inductor
- Made In USA, Designed for audio use
OdiO Air Core Inductor
Copper foil/ Polypropylene, +/- 5%, Designed for audio & OEM by Alpha-Core,USA
Inductance (mH) DCR ohm, Dia.inches, Weight in gram

#14AWG
0.0025mH
0.05mH
0.08mH
0.10mH 0.049 1.6 158
0.11mH 0.050 1.6 159
0.15mH 0.054 1.7 191
0.18mH 0.063 1.7 215
0.22mH 0.071 1.8 240
0.24mH 0.075 1.8 250
0.25mH 0.076 1.8 253
0.27mH 0.078 1.9 255
0.30mH 0.082 2.0 268
0.33mH 0.083 2.0 280
0.36mH 0.089 2.1 304
0.39mH 0.092 2.1 316
0.43mH 0.095 2.1 328
0.47mH 0.11 2.2 337
0.51mH 0.12 2.2 342
0.56mH 0.13 2.3 378
0.62mH 0.143 2.4 405
0.68mH 0.154 2.4 436
0.75mH 0.165 2.5 463
0.82mH 0.175 2.6 487
0.86mH 0.119 2.5 519

0.91mH 0.182 2.5 550

1.0mH 0.188 2.7 570
1.2mH 0.220 2.8 590
1.23mH 0.221 2.8 608
1.5mH 0.251 3.0 672
1.8mH 0.300 3.2 737
2.0mH 0.315 3.3 805
2.2mH 0.332 3.4 873
2.6mH 0.362 3.5 939
3.0mH 0.396 3.6 1020


#12AWG
0.47mH
0.56mH
0.62mH
1.0mH
1.2mH
1.5mH 0.160 3.1 1219
1.8mH 0.191 3.3 1273
2.2mH 0.221 3.5 1568
5.6mH 0.392 4.6 2630
7.5mH 0.440 5.1 3320


OdiO Air Core Inductor
Silver foil/ Polypropylene, +/- 5%, OEM made by Alpha-Core,USA



Other specifications on #12AWG/#14AWG/#16AWG or silver foil inductors upon request.
Last updared 3/30/05